In their nature - innovations cannot always be "right first time". However careful you are in planning and testing, there will always be surprises, as is well known in R&D with its all-pervasive "Murphy's Laws"4 . That is why scientific method is based on hypothesis, followed by experimental testing. Except for the most repetitive projects, every new building is a hypothesis and its performance in practice is the experiment. But where are the designer/experimenters? In the distant past, when technology and user requirements changed slowly, one could perhaps rely on evolutionary feedback. More recently, one could perhaps rely on academic study and the test of time. But today, when things are changing so fast, there is no alternative to learning on the job.
–Bill Bordass, U.K., 2003.
One of our long-term goals is to nurture growth in the knowledge base through case study development, exposure to methodologies of conducting research, and practice in critical thinking. Sharing such building performance information among practitioners in building design and construction industries in addition to researchers, faculty, and students at architecture schools is fundamental to improving the quality of our built environment. We project that, through Agents of Change, over 600 building case studies will be developed and disseminated on the Web.

Links to Model Case Studies
These web pages offer shared resources and model case study investigations developed by students from around the country.
- Vital Signs Archive
- University of Oregon Case Study Hall of Fame
- Model Case Studies
- University of Idaho Case Study Archive
- Texas A&M University Case Study Archive
- Ball State University Case Study Archive
- Kent State University Case Study Gallery
- Arizona State University
Vital Signs Course
Carefree House


Agents of Change Award Program
A Case Study Competition will be developed to promote exemplar case studies. Given for the best case studies submitted for review by the Agents of Change Advisory Committee, this site will serve as the repository for these award-winning case studies.
In the meantime, if students from your school are posting case studies to the Web, send an email with the URL address to Alison Kwok at <akwok@aaa.uoregon.edu> and we will include links to your Web site.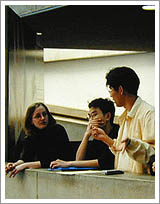 U.C. Berkreley Graduate Student Instructor and students discussing a field exercise inspired by an AoC Workshop