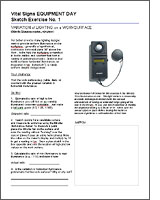 A knowledge base and research infrastructure are essential to support the expertise and creativity required to improve the quality of life through the design of inspiring buildings and sustainable communities and environments.
–Donald Watson, Architectural Research Quarterly, 1999
During the course of the Agents of Change project we will post documents and teaching resources generated by participants at and after the training. We have also moved the contents of "Teaching Kits" into this section. Feel free to use the teaching documents in your own courses. They area provided as Word document so you can edit them for your own use.