Below are team presentations in PDF format from mini-case studies conducted at the Burton Barr Central Library during the Phoenix, Arizona Training Session. These studies represent a one-day investigation into thermal heat transfer and envelope design, patterns of air movement, and daylighting.

Team A: Vidhi Agarwal, Bruce Haglund,
David Almany, Stephen Dent, Steven Porterfield, Phoebe Richbourg, Connie Thibeau–Catsis
Hypothesis: "Light transition" between exterior entry area to "Crystal Canyon" is comfortable.
-Comfortable : 1:5 brightness ratio

Document: (544 kb pdf)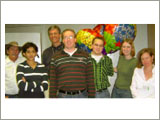 Team B: Sara Goenner, Marlin Addison,
Sajini Badrinarayan, Jared Hoffman, Sandy Stannard, Brandon Stengel
Hypothesis: There will be greater air temperature stratification on the 5th floor as compared to the 3rd floor.

Document: (416 kb pdf)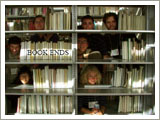 Team C: Jon Meendering, Alison Kwok,
Linda Guarascio–Howard, Michael D. Kroelinger, Jonee Kulman Brigham, Mandy Martineau, Nick Reisen
Hypothesis: Stacks in direct sunlight exhibit more conditions associated with glare than those out of direct sunlight.
Document: (768 kb pdf)

Team D: Shruti Narayan, Walter Grondzik,
Ethan Atwood, Tammy Clack, Kuppaswamy Iyengar, Nam–Kyu Park, Ben Spencer

Hypothesis: There are Micro Climates in the 55th Floor Reading Room.
Document: (352 kb pdf)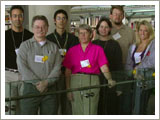 Team E: Roger Ota, Harvey Bryan,
Diane Armpriest, Megan Compton, Jennifer Johnson, Rob Peña, Robert Rayner

Hypothesis: Air moves both up and down across the atrium section.
Document: (768 kb pdf)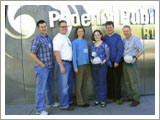 Team F: Emily Wright, David Scheatzle,
Leslie Bailly, John Quale, Alain Rivard, Eric Roberts

Hypothesis: The Fifth Floor of the [F]oenixPublic Library is thermally more comFortable than the second Floor.


Document: (448 kb pdf)

Teaching Documents
- Exercises
- Case Study Evaluation
- Others' Contributions
- Passing the Baton
Workshop Documents
- Training Workshop RFP
- FAQs about the RFP
- Team Presentations
Aug 2005 New Smyrna Beach, FL
Oct 2004 Falmouth, MA
Jan 2004 Phoenix, AZ
Aug 2003 Oberlin, OH
Jan 2003 Portland, OR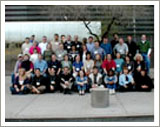 Workshop participants
Phoenix, AZ January 2004
Click here for larger version.



Past Workshops:
- Oct 2004 (Falmouth, MA)
- Jan 2004 (Phoenix, AZ)
- Aug 2003 (Oberlin, OH)
- Jan 2003 (Portland, OR)
- Jan 2001 (Milwaukee, WI)
- Nov 2000 (Berkeley, CA)