Below are team presentations in PDF format from mini-case studies conducted at the Woodshole Research Center during the Falmouth, MA Training Session.






Team A


Kathy Bevers, UOregon
Walter Grondzik, FAMU
Bob Crowell, UVirginia
Gregg Daly, Onset Computer
Nibedita Das, Kansas State
Jeff Dennis, Onset Computer
Moses Ling, Penn State

Hypothesis: Indoor air quality is lower at the upper level than at the basement level during occupied hours when the building is naturally ventilated.

Indoor Air Quality - as determined using CO2 levels as a surrogate indicator of contaminants, with acceptable limit of 1000 ppm max
Natural Ventilation - ventilation by means of openings in the building envelope

Document: (1.0 mb pdf)

Team B


Sara Goenner, UOregon
John Quale, UVirginia
Beth Dobson, FAMU
Simon Hare, Archventures, Inc.
Michael Kelly, Temple
Jeff Krska, Cal State Poly (Pomona)
Jack Sample, Onset Computer

Hypothesis: The level of thermal comfort in the work spaces on levels one through three are outside the thermal comfort zone.

Document: (1.5 mb pdf)

Team C


Jon Meendering, UOregon
Judy Theodorson, WSU-Spokane
Todd Gabbard, Kansas State
Tom Martineau, FAMU
Jack Parchesky, Onset Computer
Devon Sylvester, Temple

Hypothesis: Noise generated in the Commons area disturbs workers in adjacent offices.

Document: (1.3 mb pdf)

Team D


David Posada, UOregon
Cris Benton, UC Berkeley
Andy Beckham, FAMU
Stuart Echols, Penn State
Alaina Jones, North Carolina A&T
Joanna Phillips, Onset Computer
Kevin Settlemyre, BAC

Hypotheses: #1a - The light levels in the office spaces in which people are working are 20% below the light levels in common IES standards. #1b - The people working in these spaces are satisfied with these light levels.

Document: (5.4 mb pdf)

Team E


Heidi Spaly, UOregon
Bruce Haglund, UIdaho
Ana Maria Corzo, North Carolina A&T
Brooke Harrington, Temple
Nathan Patrick, Penn State
Hofu Wu, Cal State Poly (Pomona)

Hypothesis: Regardless of orientation, the natural illumination of the offices on the third floor is within 10% of each other.

Document: (1.2 mb pdf)

Team F


Emily Wright, UOregon
Jim Wasley, UWisconsin Milwaukee
Don Corner, UOregon
Adam Pelkey, FAMU
Bob Powell, North Carolina A&T
Jessica Ruben, Temple

Hypothesis: Valence convectors do not convect. In the heating mode the valence convectors distribute heat primarily by radiation.

Document: (0.4 mb pdf)

Team G


Wendy Fujinaka, RPI
Nick Rajkovich, Cornell
Mark Rylander, William McDonough + Partners
Greg Thomson, BAC
Rachel Weber, UOregon

Hypothesis: The skylights in the conference room on the third floor of the Woods Hole Research Center provide less than a 2% daylight factor under overcast sky conditions.

Document: (1.9 mb pdf)
Teaching Documents
- Exercises
- Case Study Evaluation
- Others' Contributions
- Passing the Baton
Workshop Documents
- Training Workshop RFP
- FAQs about the RFP
- Team Presentations
Aug 2005 New Smyrna Beach, FL
Oct 2004 Falmouth, MA
Jan 2004 Phoenix, AZ
Aug 2003 Oberlin, OH
Jan 2003 Portland, OR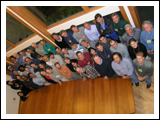 Workshop participants
Falmouth, MA October 2004
Click here for larger version.




Workshops:
- Oct 2004 (Falmouth, MA)
- Jan 2004 (Phoenix, AZ)
- Aug 2003 (Oberlin, OH)
- Jan 2003 (Portland, OR)
- Jan 2001 (Milwaukee, WI)
- Nov 2000 (Berkeley, CA)