Below are team presentations from mini-case studies conducted at the Water Pollution Control Laboratory during the Portland, Oregon 2003 Training Session. These studies represent a one-day investigation into thermal heat transfer and envelope design, patterns of air movement, daylighting, and occupant satisfaction.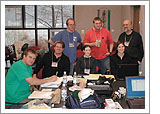 Team 1: Troy Peters, Mike Utzinger, Michael Garrison, Andrew McKeown, Mary Rowe, Jeffrey Prashaw, Kaila Williams
Hypothesis: The changing ceiling height in the second floor open offices creates variation in environmental loads to which the interior space planning does not respond.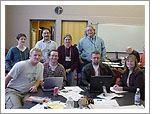 Team 2: Janelle Black, Walter Grondzik, Marshall Dunlap, Tonimarie Mainville, Ronda Mohr, Adil Sharag-Eldin, David Scheer, Jens Vilhelmson
Hypothesis: The interior partitions in the office space reduce the effect of the mean radiant temperature on thermal comfort during overcast and cold outdoor temperatures.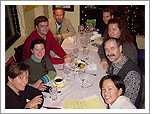 Team 3: Angie Matt, Paul Clark, Katy Janda, Jane Lin, Chris Meek, Brad Pease, Erin Russ, Peter Stone
Hypothesis: Baseline conditions of temperature, air movement, CO2, and relative humidity change when windows and doors are opened in the second floor workspaces.
Documents: View team PowerPoint presentation as HTML.
Bubble Clips: This team used bubbles to visualize air movement when windows and doors are opened. They wanted to see which direction the air was moving and idetnify affected areas.
Clip 1 (765kb mpg): The effect of the open door. We predicted that the air would blow in, but since the ventilation system is on, the building is pressurized outwards.
Clip 2 (1150kb mpg): An open windown when the building ventilation system is on. During the summertime, there are times when the building is not pressurized, allowing air flow into the building through operable windows. In this building there is an indicator on the wall that tells you when it's okay to open the windows to bring air in to cool the building.
Team 3-2: Brad Pease, Peter Stone
Hypothesis: Metal structural and cladding members that penetrate the exterior enclosure will experience a temperature gradient along their length in the interior/exterior zone.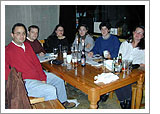 Team 4: Tara Hanby, Jim Wasley, Lizette Fife, Jonathan Fleming, Susan Olmsted, William Santiago, Judy Teodorson
Hypothesis: Lighting levels in the laboratory space at the Water Pollution Control Laboratory meet the 50 footcandle requirement for laboratory work surfaces.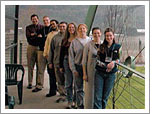 Team 5: Kathy Bash, Cris Benton, Nancy Clark Brown, Erin Detwiler, Ryan Geiser, Dorothy Gerring, Brandon Rogers, Kevin Van Den Wymelenberg
Hypotheses: 1) View is an amenity of the workspace. 2) The workspace is visually comfortable. 3) On a clear day in January the shades will be open. On a cloudy day in January the shades will be open. 4) The task lighting will be on at the workspaces where there are workers (in January with the shades open).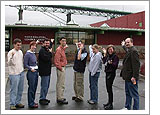 Team 6: Roger Ota, Sandy Stannard, David Crutchfield, Cory Griffin, David Hodgman, Heidi Kaspar. Phil Mead, Valerie Strom
Hypothesis: The skylights do not contribute to the general illuminance of the lab.
Teaching Documents
- Exercises
- Case Study Evaluation
- Others' Contributions
- Passing the Baton
Workshop Documents
- Training Workshop RFP
- FAQs about the RFP
- Team Presentations
Aug 2005 New Smyrna Beach, FL
Oct 2004 Falmouth, MA
Jan 2004 Phoenix, AZ
Aug 2003 Oberlin, OH
Jan 2003 Portland, OR



Past Workshops:
- Oct 2004 (Falmouth, MA)
Jan 2004 (Phoenix, AZ)
- Aug 2003 (Oberlin, OH)
- Jan 2003 (Portland, OR)
- Jan 2001 (Milwaukee, WI)
- Nov 2000 (Berkeley, CA)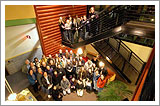 Training Workshop at Water Pollution Control Laboratory Portland, OR January 2003
Click image for larger version.